Local Business SEO Services
Calling all Edmonton Local Business. Increase Visibility Within Your Market & Dominate Your Local Search Results!
Lets face it the majority of your business is from the local area, so there is no need to be going crazy with extensive changes to your website.

At RCWS we concentrate on your local area and creating buzz around your local business. With a well rounded SEO approach.
Our approach ensures that not only your website, but your entire business profile is boosted in every area. For example we will concentrate on the following areas.
Ensuring your Google My Business profile is up to date and has current posts applicable to your business.
Creating Press releases to get your business featured on such channels as FOX and the ABC networks.
Creating great titles and descriptions for your website pages to get you click through on google and other search engines.
Create and promote video content for your business.
Creating back links from authoritative websites.
The most important part of getting your business out to your customers is to have a well rounded approach. One that touches on all the possible online entry points to your business. Get in touch with us today
Every business is different
RCWS will tailor make your package based on your actual needs. There is no one fits all type package. There are also no guarantees, if you are being offered a "We will get you to position#1 on Google Guaranteed" runaway somethings not right there.
RCWS uses proven tried methodology that we have been using for years with great success. Being number 1 on Google is a great thing for sure. However having a more rounded approach that ensure you appear everywhere someone is searching in local search is 10x more important.
We have been working with Logoclothz a company in the USA using our exact approach we have dominated page 1 on Google for local searches for "Custom Tablecloths" also ensuring the #1 spot on Google My Business.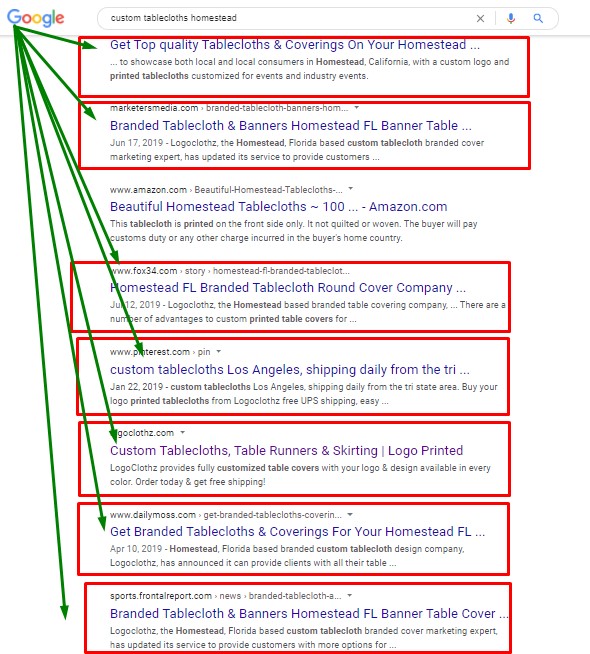 A good marketing strategy ensures touch points in as many places as possible, focusing on just Google #1 is like having blinders on, you need to be as close to everywhere your customers are as possible. We do that no complicated jargon or things you don't understand, we make it easy and fun.
Edmonton local business experts
We have been helping and working with businesses in our local area for years and look forward to doing so for many more. Reach out to RCWS today for a free no obligation chat and lets see what we can do for you, lets connect.